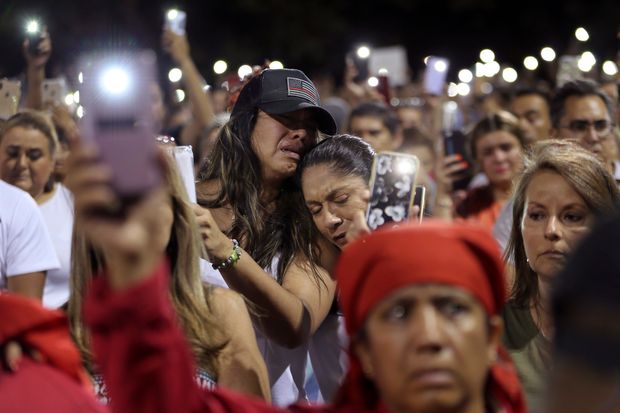 Alaska Builders Prayer Call
August 5, 2019
Father God, we come to you today, broken hearted and grieving for the families and communities that have been senselessly attacked by rogue shooters.  This is the second consecutive weekend our nation has been affected by this darkness.  We are numb with confusion and are seeking You for solace and restoration.
This morning Lord, you opened my mind to many scriptures and have clearly directed me to pray them all out!  Thank you, Father God, for knowing exactly what we need to hear and we stand in agreement with You in Your Word:
Psalm 119: 114-117: "You are our hiding place and our shield, we wait for Your Word.
Depart from us, evildoers, that we may observe the commandments of our God.  Sustain us according to Your Word, that we may live.  And do not let us be ashamed of our hope.  Uphold us that we may be safe, that we may have regard for Your statues continually."
Psalm 91: A prayer of security of one who trusts in the Lord which I encourage all of us to read and pray over our households every day!
 He who dwells in the shelter of the Most High
Will abide in the shadow of the Almighty.
2 I will say to the Lord, "My refuge and my fortress,
My God, in whom I trust!"
3 For it is He who delivers you from the snare of the trapper
And from the deadly pestilence.
4 He will cover you with His pinions,
And under His wings you may seek refuge;
His faithfulness is a shield and bulwark.
5 You will not be afraid of the terror by night,
Or of the arrow that flies by day;
6 Of the pestilence that stalks in darkness,
Or of the destruction that lays waste at noon.
7 A thousand may fall at your side
And ten thousand at your right hand,
But it shall not approach you.
8 You will only look on with your eyes
And see the recompense of the wicked.
9 For you have made the Lord, my refuge,
Even the Most High, your dwelling place.
10 No evil will befall you,
Nor will any plague come near your tent.
11 For He will give His angels charge concerning you,
To guard you in all your ways.
12 They will bear you up in their hands,
That you do not strike your foot against a stone.
13 You will tread upon the lion and cobra,
The young lion and the serpent you will trample down.
14 "Because he has loved Me, therefore I will deliver him;
I will set him securely on high, because he has known My name.
15 "He will call upon Me, and I will answer him;
I will be with him in trouble;
I will rescue him and honor him.
16 "With a long life I will satisfy him
And let him see My salvation."
Psalm 78: 40-42
40 How often they rebelled against Him in the wilderness
And grieved Him in the desert!
41 Again and again they tempted God,
And pained the Holy One of Israel.
42 They did not remember His power,
The day when He redeemed them from the adversary,
Lord, thank you for this reminder that we should NEVER LIMIT YOU for YOU ARE THE GOD OF CREATION AND NOTHING IS IMPOSSIBLE WITH YOU!
Lastly Lord we THANK YOU AND PRAISE YOU for Your goodness, Your mercy and Your kindness.  We thank you that we may come boldly to the throne of grace and lay our sorrows and our cares at Your feet.  We sing Hallelujah to the King!  Thank you Father for the words of Psalm 92: 1-4: for "It is good to give thanks to the Lord
And to sing praises to Your name, O Most High;
2 To declare Your lovingkindness in the morning
And Your faithfulness by night,
3 With the ten-stringed lute and with the harp,
With resounding music upon the lyre.
4 For You, O Lord, have made me glad by what You have done,
I will sing for joy at the works of Your hands."
We stand in agreement over Your Word.  In Jesus Name we pray!
Amen and Amen!